Sponsorships
APCO 2022 sponsors not only receive increased visibility but receive a lot of benefits that will keep them in the spotlight.
Check out the advertising and sponsorship brochure for high exposure opportunities that will get you noticed before, during and after APCO 2021. There are also maps of the onsite visibilities so you see where and how your onsite sponsorship will look.
Featured Sponsorships
Bag Stuffer
$800 (Exhibitor)/$1,600 (Non-Exhibitor)

This combo offers the best of both worlds.  Floor decal placed at either the entrance or exit of the exhibit hall and a 1M double-sided ad. You create the artwork.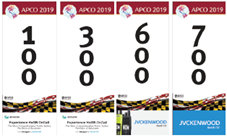 Aisle Signs
4 for $5,000
Only 1 set available!
Wrap your brand around columns located in the main lobby of the Anaheim Convention Center. Columns are located in high traffic areas.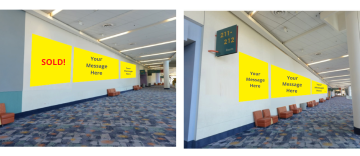 Professional Development Track Banner
$5,850 each

Catch attendees' eyes as they attend sessions in the professional development tracks and constantly walk passed your message.  These 20′ W x 8′ H clings will surely stay on their minds.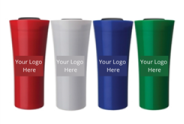 Attendee Gift (Exclusive)
$12,000 (Exhibitor)/$15,000 (Non-Exhibitor)
Provide the cups that attendees can use to quench their thirst during APCO 2022.  Your company will always be noticed.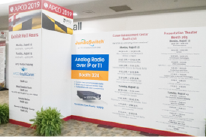 Exhibit Hall Entrance Unit (Exclusive)
$15,000 (Exhibitors Only)
Your ad featured on the exhibit hall entrance unit will shine along with important hall activities.  What a way to draw attendees to your booth.
---
Interested in a customized package to fit your goals and budget? We can help! Give us a call.
Purchases can also be made in the APCO 2022 Exhibitor Portal.
Note: Advertising and sponsorship opportunities are also open to non-exhibitors at a slightly higher rate. If you are not an exhibitor and are interested in being an APCO 2022 sponsor or just need information, contact: