Sponsorships
APCO 2022 sponsors not only receive increased visibility but receive a lot of benefits that will keep them in the spotlight.
Check out the advertising and sponsorship brochure for high exposure opportunities that will get you noticed before, during and after APCO 2021. There are also maps of the onsite visibilities so you see where and how your onsite sponsorship will look.
Co-sponsor the Wellness Program with these companies





Featured Sponsorships
Wellness Program
$30,000 (6 sponsors @ $5,000 each)
Only 3 openings left!
Be a supporter of the Wellness Program at APCO 2022. Program kicks off with a 5K on Sunday morning, a group exercise during the week and a health and wellness track dedicated to wellness. Sponsors are recognized at all activities and during promotion.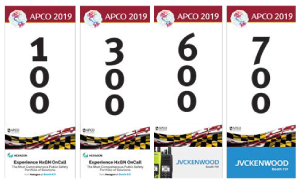 Expo Aisle Signs (Exhibitors Only)
4 Signs – $5,000
5 sets available
Your logo will be displayed on each aisle sign in the exhibit hall. Attendees will look up and see your brand as they make their way through the aisles.

Conference Notebooks (Exclusive)
$10,000
Your logo displayed on an attendee favorite. These notebooks are used during APCO 2022 and back in the office. Great keepsake!
Attendee Gift (Exclusive)
$12,000
Your logo displayed on the water bottles or cups given to attendees as the attendee gift.  Attendees use this gift during APCO 2022 and long after.
---
Interested in a customized package to fit your needs and budget? We can help! Give us a call.
Purchases can also be made in the APCO 2022 Exhibitor Portal.
Note: Advertising and sponsorship opportunities are also open to non-exhibitors at a slightly higher rate. If you are not an exhibitor and are interested in being an APCO 2022 sponsor or just need information, contact:
Lisa C. Williams, CMP, CEM
Director of Corporate Outreach
(571) 312-4400 ext. 7003
williamsLi@apcointl.org